Race Dates – Hobbler Half Marathon
July 10, 2021

August 08, 2020

Race Cost & Fees – Hobbler Half Marathon
While the price may vary occasionally from year to year, the most accurate pricing can be found on the race registration website as soon as registration opens. Keep in mind that most races offer discounts on their price for early registration. These types of discounts can help lower your cost to race in exchange for a little planning ahead on your part. But don't worry, registering in advance only makes things all the more exciting as you now have a goal to shoot for and even more time to train! 
Some races also offer newsletters that can notify you of upcoming registration or any early bird discounts that are available throughout the year. Make sure to sign up for these newsletter emails to be aware of these potential cost savings. You should also be aware of what is included in the price of registration for each race. Typical registration should include your pre-race packet, a running bib, the cost of medals for finishers, and sometimes either a t-shirt or other swag to show off your accomplishments. Most of these come with the cost of registration, with an option to upgrade or buy extra swag for a small fee. Race gear will also often come with coupons or discounts for helpful race items or other health products. All of these together with some funds to help cover staffing, break stations, are what determine the registration price for a race. 
When it comes to your health and achieving new goals, the accomplishment you can feel from completing a race is well worth the price. Invest in yourself, and don't count the cost. You and your dreams are worth it!
Full Race Info – Hobbler Half Marathon
Course Information – Hobbler Half Marathon
The Hobbler half marathon takes place annually in Utah. Those taking part will experience the beauty of Hobble Creek Canyon, with its breathtaking scenery of the hills and mountains that frame the route of the race. Hobble Creek Canyon is in the southeast of Provo. The race continues through the city streets of Springville and comes to a close in Springville Arts Park. The race has been around for ten years and typically takes place in July. The 2019 event was held on Saturday 6th July, and the next event is now scheduled for 6th July 2020. The half marathon is organised by Run 13 and presented by Trapnell Orthodontics; supported by Dr Brian Trapnell and his team in Springville.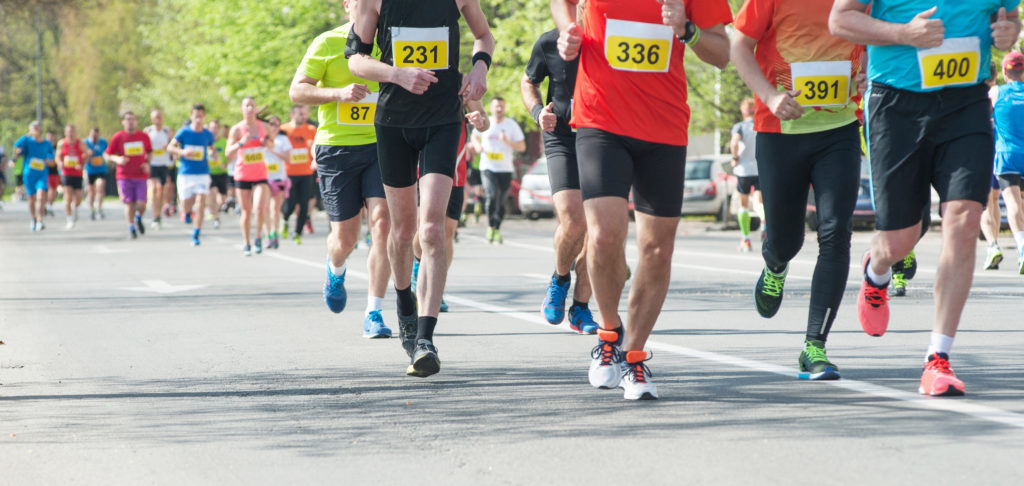 Which other races take place at this event?
The half marathon race day also includes a 5K race and a relay race. Both follow a similar running path as the Hobbler Half Marathon. The half marathon and 5K races combined have typically seen a turn out of around 600 runners per year. There is also a kid's marathon available for children in Grades K-6. The half marathon is 13.1 miles, and the 5K is 3.1 miles.
 What is the elevation like? 
The route is a gradual descent from the mountains through Hobble Creek and then moving along Canyon Drive. As the race is mostly downhill, it's ideal for those who are beginner marathon runners as well as frequent runners who are looking to beat their records. The half marathon male record is 1 hour, 4 minutes and 37 seconds by Jason Lynch in 2018. The half marathon female record is and 1 hour, 15 minutes and 11 seconds by Grayson Murphy in 2019.
What can I expect on race day? 
Throughout the race you'll find scenery to delight your eyes and plenty of water stations to keep you hydrated. There are massage therapists at the finish line to help runners unwind and relax their muscles after their great achievement! You'll also find entertainment, music and some excellent food with Magleby's breakfast to chow down after your run! Every runner will receive shirts and finisher medals too. Those participating in the kid's marathon will also receive a goody bag! The half marathon generally kicks off at 6.30am, while the 5k begins at 7.30am. Fees wise, you'll pay around $49-$79 for the half marathon and between $15 and $34 for the 5K. If you're interested in signing up your children for the kid's marathon, you'll pay between $15 and $20.
 Springville experiences warm and dry weather around the time that the race is held. Generally speaking, on race day, the average high temperature has been around  92ºF. The average low has been around 59ºF. Water stations are located approximately every 2 miles along the course to keep runners good and hydrated. In the case of bad weather, the marathon will still go ahead if there's a little rain. In the event of any more extreme weather warnings before the race, runners should look out for an email or homepage updates.
Race Review – Hobbler Half Marathon
 If you're looking for a marathon that's something really special, the Hobbler Half Marathon really delivers! To kick off the day, you'll need to be up bright and early to go and hop on the bus. It's mandatory that all half marathon runners get the buses because there is zero parking at the starting line. The buses go from the finish line (Arts Park) from 4.45 am until 5.25 am. If your an early riser take advantage of this and grab a seat on the first bus! There are even rewards for the very earliest bus riders (to give you even more incentive to rise and shine at silly o'clock)! There's also a handy bag drop at the beginning which can take your clothing and bags down to the finish line for you.
 Once you begin the race, you'll find a pretty paved trail from Hobble Creek through and out of the canyon. All around you are the stunning rolling hills, trees, a quaint bridge or two and some scenic ranches. Taking in all this beautiful scenery as you run is an experience not to be missed! As you pass through the canyon, you'll run through some lovely hayfields and then make your way through the quaint streets of the surrounding neighbourhoods. You'll find this terrain flatter than running through the canyon, though the entire half marathon is mostly downhill.
There are several well-stocked stations with water and Powerade as you make your way through the course. You'll also find some energy gels every so often at a station (a big plus)! All of the volunteers are incredibly friendly and willing to help with whatever you may need. Everything is well organized and pleasant; from the food on offer to the collection of the lovely shirts and medals. The great thing about this race is that you can get a well-paced run that doesn't leave you with too many aches in your legs after! (Unlike those half marathons with several inclines along the way)!
 At the finish line of the Hobbler Half marathon, you'll find a well-deserved party for all the family. There's a plethora of things to do from getting a massage, to delicious free breakfasts, face painting and bounce houses (for the kids- or perhaps those adults who fancy it)!
There's an enjoyable award ceremony at around 9.30am to announce the overall winners of each age category and race. Cash prices are on offer for the winners, and all will receive their medal after the official results are in. All in all, this is a highly recommended half marathon that's organized, enjoyable and accessible for beginners and more experienced runner's alike. Running with such gorgeous scenery in the distance is a highly therapeutic experience that those mostly city-based marathons can't compete with! As with every running event, ensure that you prepare yourself by training adequately.