Race Dates – Heber Half Marathon
June 26, 2021
June 29, 2020
Race Cost & Fees – Heber Half Marathon
Historically, the Heber Half Marathon has cost about $75. While the price may vary occasionally from year to year, this is the typical cost that you can expect to pay to run this race. The most accurate pricing can be found on the race registration website as soon as registration opens. Keep in mind that most races offer discounts on their price for early registration. These types of discounts can help lower your cost to race in exchange for a little planning ahead on your part. But don't worry, registering in advance only makes things all the more exciting as you now have a goal to shoot for and even more time to train! 
Some races also offer newsletters that can notify you of upcoming registration or any early bird discounts that are available throughout the year. Make sure to sign up for these newsletter emails to be aware of these potential cost savings. You should also be aware of what is included in the price of registration for each race. Typical registration should include your pre-race packet, a running bib, the cost of medals for finishers, and sometimes either a t-shirt or other swag to show off your accomplishments. Most of these come with the cost of registration, with an option to upgrade or buy extra swag for a small fee. Race gear will also often come with coupons or discounts for helpful race items or other health products. All of these together with some funds to help cover staffing, break stations, are what determine the registration price for a race. 
When it comes to your health and achieving new goals, the accomplishment you can feel from completing a race is well worth the price. Invest in yourself, and don't count the cost. You and your dreams are worth it!
Full Race Info – Heber Half Marathon
Course Information – Heber Half Marathon
The Heber Half Marathon is a Run for Autism. Alongside the half marathon, there is a 5k run and a half mile All Abilities Run. Runtastic and Kids On The Move have teamed up to put on a fantastic race, taking place in June each year. The run takes place on a downhill slope through the Heber Valley, Utah, and the incline starts at 8998' and ends at 5732', so it's a very fast downhill course that's fun for the whole family.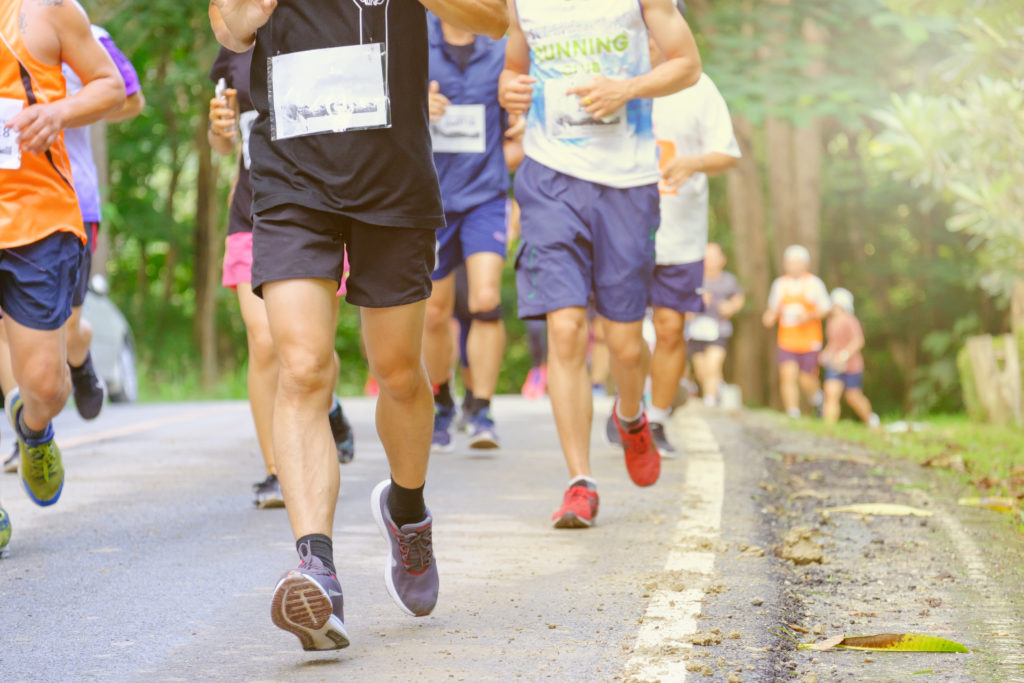 The Heber Half Marathon was designed for all the family, and there are some finishing line celebrations to be enjoyed, including bounce houses, a blue foam party and food trucks waiting for successful half marathon runners.
When you choose to run the Heber Half Marathon, you are running for children with autism and benefitting the Kids On The Move's Autism Center – so you can feel good on the inside as well as on the outside while you run. The race itself benefits those looking to raise awareness for autism, autism education, and programs that are provided by Kids On the Move.
The race begins at East 980th Street, Heber City at 6am for the Heber Half Marathon. Those running the 5K will need to be there at 7am, and those who want to take part in the All Abilities race will need to arrive for 9.30am. At the end of the race, there are awards handed out for the following categories:
Overall – Top 3 Men & Women in the Heber Half Marathon and the 5K
A medal
Free registration into the Heber Half Marathon next year
Age Group – Top 3 Men & Women in the Heber Half Marathon and 5K
There is a bus available to get the Heber Half Marathon runners to the start of the race, and it's required that runners are on this bus. The runners of the 5K will start and end at the finish line location and run in a loop. The Heber Half Marathon runners will be picked up at the finish line location dictated in the Personal Pack that you can collect. You have to be in the loading zone by 4.45am to guarantee a spot on the bus to get to the starting point. If you miss your bus, you forfeit the registration
As the Heber Half Marathon is a family-friendly event, there is much encouragement for families to cheer you on from the sidelines. Those who want to run with strollers can do so in the 5K race but are not able to run the Heber Half Marathon with one. If you are pushing anyone in a stroller for the 5K race, you need to know they won't get a medal and they won't be times. If you are an athlete who has assistance, you can get permission to take part in the Heber Half Marathon in advance of the day.
There is a 3 hour and 15 minute time limit for the race, but as it's downhill, this shouldn't be a problem!
Race Review – Heber Half Marathon
When you choose to run a marathon like the Heber Half Marathon, you are choosing to support children with autism. For such a worthy cause, you can expect a day filled with happy participants, excellent entertainment, and a lot of like-minded people who want to do something amazing that is bigger than they are. The Heber Half Marathon offers all of these things, which is why it's such a popular race to run. The Heber Half Marathon is the only race in Utah that is explicitly designed to help children with autism, with all the proceeds going towards the Kids On The Move Autism Center.
As a family-friendly race, the Heber Half Marathon is going to appeal to those with children, running together as a family event. There's plenty of space for people to cheer you on, with aid stops for water along the edge and port-a-potties at intervals for runners who need a break. Running toward the finish line may take up to 3 hours, but it's going to be worth it for the cause you are supporting. You'll find so many fantastic food trucks who turn out for the purpose at the end, as well as a bouncy house for the children to enjoy and a gathering of exhausted and happy runners who know they've spent time raising money for a cause that is so worthwhile that it even has its own hashtag, #DressItUpBlue.
Families with children with autism or other disabilities can come, and their children can join in the kids' run if they want to and if you know anyone who has autism you can race for them and have their name on your running bib!
The Heber Half Marathon is an entirely new racecourse to run, and it's all downhill from Lake Creek road to Heber City. The registration fee is $89, with the 5K being $35 and the half-mile at $10. You can sign up to the registration link and advertise it on social media from there to let your friends know that you have signed up to such a fantastic race. In your race fee, you get entry to the race and a shirt sporting the Heber Half Marathon for Autism on the front. You also get a medal for completing, and the medals are shaped like a puzzle piece.
Over four years, they interlock, so you end up with a completed puzzle when you complete four races.
During the race, you'll get the chance to see Heber City below you – it's rather steep – and you'll be able to see all the fun of the end of the Heber Half Marathon with the food trucks and entertainment waiting below. Everyone loves to take part in a fantastic cause, and the Heber Half Marathon is one to raise as much money for as possible.