Race Dates – AF Canyon Half Marathon
June 24, 2021

June 22, 2019

Race Cost & Fees – AF Canyon Half Marathon
Historically, the AF Canyon Half Marathon has cost about $100 per person. Be aware that princes may differ slightly depending on when you register to attend. There are multiple cuts off points to register in December, February, April, May, and June.
100% of the proceeds for the run go to charity to support Intermountain Cancer Centers. This helps patients with everything from medical bills to food and temporary housing.
While the price may vary occasionally from year to year, this is the typical cost that you can expect to pay to run this race. The most accurate pricing can be found on the race registration website as soon as registration opens. Keep in mind that most races offer discounts on their price for early registration. These types of discounts can help lower your cost to race in exchange for a little planning ahead on your part. But don't worry, registering in advance only makes things all the more exciting as you now have a goal to shoot for and even more time to train! 
Some races also offer newsletters that can notify you of upcoming registration or any early bird discounts that are available throughout the year. Make sure to sign up for these newsletter emails to be aware of these potential cost savings. You should also be aware of what is included in the price of registration for each race. Typical registration should include your pre-race packet, a running bib, the cost of medals for finishers, and sometimes either a t-shirt or other swag to show off your accomplishments. Most of these come with the cost of registration, with an option to upgrade or buy extra swag for a small fee. Race gear will also often come with coupons or discounts for helpful race items or other health products. All of these together with some funds to help cover staffing, break stations, are what determine the registration price for a race. 
When it comes to your health and achieving new goals, the accomplishment you can feel from completing a race is well worth the price. Invest in yourself, and don't count the cost. You and your dreams are worth it!
Full Race Info – AF Canyon Half Marathon
Race Overview – AF Canyon Half Marathon
The AF Canyon Half Marathon, takes place in June 2020, at 6 am on a date yet to be determined. Buses leave from Art Dye Park and all runners must ride buses to the start line. The buses depart at 3:45am and the last bus departs at 4:45 am on the dot. It is a beautiful marathon and for a great cause that helps local patients fight cancer.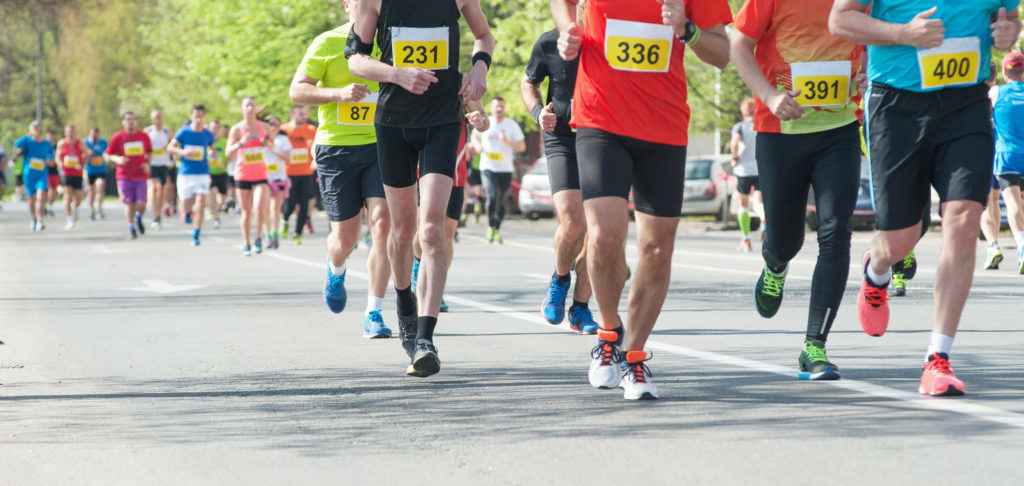 Where Will You Travel?
The Half Marathon starts in the parking lot of Tibble Fork Reservoir located in AF Canyon and concludes at Art Dye Park in American Fork. Marathon runners proceed through Newton Canyon.
At the start of the race, marathon runners go down through the canyon by traveling along American Fork Canyon Road. This takes them through the Wasatch Mountains which border Salt Lake City. Runners are provided with views of the Box Elder and North peaks.
What follows is a gradual descent from 6,400 feet to 4,7000 feet once the marathon runners reach the finish line.
Through the event, the Westbound lane at the mouth of American Fork Canyon to Tibble Fork is closed to motorized vehicles until 8am. For this reason, all half marathon runners need to be out the canyon by this time. As such, runners will need a 16-minute mile pace to ensure they are out on time. The entire course will then close to runners by 10am.
Alternate Races
There are a variety of alternate races. More experienced marathon runners may want to try the 10K marathon. There is also a 5k marathon as well as a kid marathon. The kid marathon is a 0.62-mile run. The 10K, 5k and the kid marathon all take place within the area around Art Dye Park.
Facilities
At the start line, the emcee will provide stories of inspiration before the 6am race start time. There are also prize drawings and prizes won here can be collected at the finish area's Age Division Awards table.
As well as this, there are certified fitness instructors providing classes in yoga and stretching. Half marathon runners are also encouraged to add their signature to the signing screen to help fight cancer.
There are also a variety of restrooms along at different mile points including Echo Picnic Area, South Caves, and Heritage Parks. Water, power aid and first aid supplies are available at mile 3, 5, 7, 9, 11 and 12 stations. You can also pick up some jelly belly energy beans at these stations.
Furthermore, due to popularity Pacers are on track to help you maintain your speed and meet your timing goal.
Race Review – AF Canyon Half Marathon
A key benefit of running this marathon is surely the scenery. As you travel through this gorgeous course, your expectations won't be disappointed. While this is a fast half marathon, the beautiful mountains on each side guarantee that you love every moment.
The half marathon is quite an easy course so those who are not experienced marathon runners should certainly not be deterred. This is largely due to the gentle decline, particularly towards the end of the race. This course is almost entirely downhill and since there are aid stations every two miles, you'll always get that extra shot of energy you need. The pacers also provide a welcome push to keep you at the right pace.
The only issue is that sometimes an all downhill slope like this can take you a little off guard. However, in general, you'll find that the elevation is a breeze. This is also why it's a ridiculously rapid marathon so don't be surprised if you get a fast time here.
If you can, make sure that you bring a camera so you can take some shots along the way. This truly is a stunning run which starts with a reservoir offering picturesque views before traveling along a river and then finishing at a park that provides a mountainous backdrop.
Swag is great here and every half marathon runner is provided with a performance shirt, a finisher medal, and a window decal. There's also running socks for some lucky runners who arrive early. You also get a space blanket which is more than welcome as the starting line can be quite brisk in the early morning. There are also goody bags filled to the brim.
The canyon itself is not accessible to those keen to cheer on marathon runners. However, there are plenty of other spots where you will see the crowds gather. This includes Heritage Park, Murdock Trail, and of course the finish line. So, there's a great burst of encouragement towards the end.
This half marathon is brilliantly managed as well. Packet collection is fast and easy while there are great volunteers on hand. This ensures that you're guaranteed a completely stress-free experience. You just need to make sure that you do arrive early so that you don't miss the last bus to the start line.
There are signs along the race line too. These provide stories about those who have fought cancer and lived.
You'll also be pleased to find that there are photography points all along the course. This includes the start line, Timp Cave, Heritage Park, Cedar Hills, and the finish line. Another big benefit is that you can get free photos for a week after the race. So, you'll easily be able to remember the great time you had here.
As the end of the race, there's some fantastic food available including delicious fat french toast selections. You get your choice of syrup, oranges, milk, bananas and even Italian ice gelatos.
All in all, this is by far one of the best marathons America has to offer and certainly one of the most visually striking.